Come and see how Master Business used Scriptcase to help in the development of Agro Analytics modules, a complete Agro Business Management solution.
ABOUT:
Master Business is a company specialized in Management, Business Intelligence and Business Consulting. Conceived and founded by the Technical Director of Methods Consultoria Empresarial, one of the most traditional consulting companies in Brazil, which has been operating throughout the country for over 40 years.
THE PROBLEM:
We came across the following scenario: Fazenda Platô Azul used an Agro Business ERP called Realtec, which focused on the Operational Control of coffee agribusiness activities. However, the need arose to have a system that could provide a more Macro and detailed Managerial view of operations (which the ERP in use could not provide).
THE SOLUTION:
First we needed to choose a tool that met some fundamental characteristics: 100% web, easy to use and implement, free from glitches and programming errors and with a low learning curve. Given these requirements, we chose Scriptcase as the solution to develop our modules.
Once selected, we choose to create our own BI (AGRO ANALYTICS), developed on the OPEN SOURCE Pentaho platform (100% in JAVA), which was integrated with new Activity/Productivity control tools for Planning all the field activities of a coffee farm.
j
Results (Master Business):
Substantial reduction of Diesel oil consumption by all machines and tractors, on top of a closer control of daily production quotes.
Decrease in capital spent on maintenance on older equipment that was spending much above average, which led to the decision to change many tractors and invest in new, more robust ones.
Full knowledge of the MH rates for each activity, with Efficiency Monitoring of all Tractor Drivers.
The combination of Realtec information with new implementations that were not contemplated by it were only possible through Scriptcase. This took place as a result of the creation of new Modules such as: – Pest Control; – Control of Field Activities (eg Spraying, Fertilizing, Plowing, Planting, Harvesting, etc.); – Calculation of the Colvisit by Field / Lavoura; – Productivity Control, etc.
j
"I always recommend the Scriptcase tool to third parties, as it's very easy to learn how to use and performs well in everyday use."

Claúdio – Master Business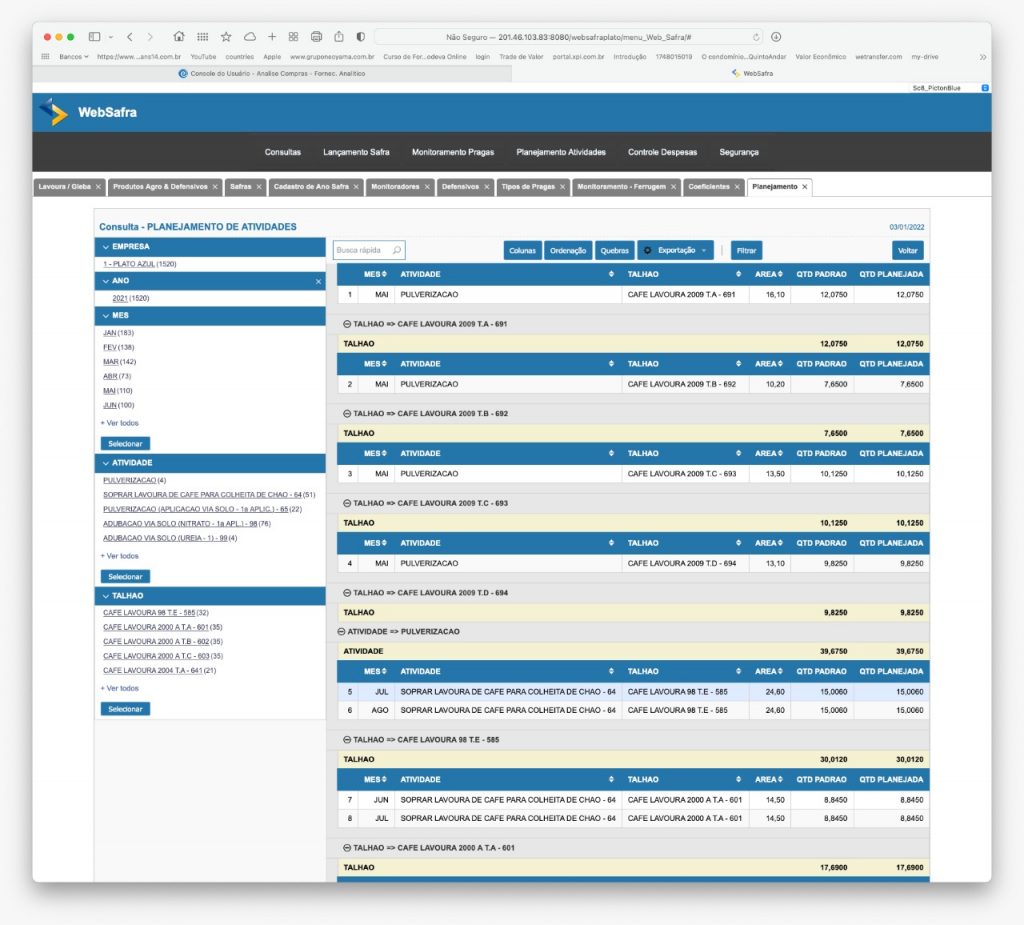 See more success stories on our blog.