Low-Code is the IT term that refers to the process of using little code to develop software and applications. Having facilities such as click and drag functionalities, anyone can create systems, even if they don't have the technical qualification for it.
Being able to create real solutions so easily makes low-code a powerful model in the process of modernizing companies. Come and understand with us all the advantages of this form of development.
But what is it, and how to use Low-Code?
Low-Code solutions offer a simplified development environment, whether software or applications. Instead of spending hours using traditional programming with Low-Code, you use simplified graphical interfaces and friendly settings to create solutions quickly and efficiently. Saving development time to focus on what really matters, business rules, and delivering results.
As its name already suggests, it is a "low-code" solution that allows you to streamline the workflow, using very visual block systems and guidance from specific creation models to optimize the development flow as much as possible.
A while ago, the entire software creation process depended on traditional programming. It was only possible to develop solutions exclusively through manual coding. Nowadays, it is possible to create complete solutions and new systems with little or no programming knowledge.
The expectation is that by 2024, more than 65% of existing applications will be via Low-Code. It is a trend that continues to evolve very strongly.
Each Low-code solution, despite many structural similarities, has its own peculiarities and development settings. Click-and-drag interface, intuitive navigation, ease of creation and integration, more modern and simplified visual models, simplicity in prototyping, and visualization of the final system. These are some of the many features that are present in Low Code.
>>> Read our full article on what is Low-code here.<<<
Why has Low Code grown and become such an important model in recent times?
In recent years, we have seen a strong process of technological transformation in companies. With the popularization of services on the internet and the significant increase in the presence of users in the digital universe, companies have had to improve their processes to adapt and meet this new scenario.
Business leaders and specialists were forced to look for solutions that could meet the new digital demands while managing to integrate their teams and bring their relationships with customers closer together.
The use of Low-Code came precisely to accelerate and simplify the process of digitizing business. This development tool made it possible to build solutions quickly and efficiently, even with little time for adaptation.
It is worth mentioning that the digital transformation process itself is not something new, it has been observed for some years. However, with the advent of the COVID-19 pandemic, a peak of growth was identified by the search for more modern tools and remote use to meet the new reality.
Research by Forrester Research predicts that low-code platforms will account for 75% of all software developed worldwide by 2024. Low-code Development Platform Market Research Report – Global Industry Analysis, Trends, and Growth Forecast to 2030, by Research and Markets.
Why should my company adopt Low-Code?
According to Gartner, 76% of the world's companies are adopting Low-Code to increase their productivity and reduce costs in the solution development process. And much more than that, 67% of companies want to reduce the time spent creating solutions to focus on market gain, and 63% want to automate and modernize processes.
With the global process of digital acceleration, companies entered a direction where there was a constant need to build apps, process automation, new features, and applications for the systems used (CRM, ERP, etc.) for that.
Even in the face of the need to create complex composition applications, which was always considered a true mission, Low-code came to make everything more intuitive and simplified, thanks to its technology that allows development with little or no programming repertoire.
When talking about the abstraction process, the Low-Code tools are, without a doubt, the most sophisticated because they bring ready-made and standardized blocks to be worked on and fitted in a convenient and necessary way, generating infinite possibilities of applications. We can say that Low Code has brought about a true revolution, a development that has always been considered complex has become accessible through these pre-built models and "drag and drop" solutions. This simplification and automation of processes reduce time and cost, goals that are widely sought by the entire modern corporate universe.
Another point we must highlight is the possibility of customizing the solutions, which means that the results are guided precisely according to individual needs. It is possible to meet each specification of the projects in a particular way with infinite possibilities of solutions. And this builds a whole space for IT professionals to explore alternatives and specific solutions for each group, building different solutions modeled according to the service offered.
The entire process of popularizing these development forms drastically boosted the wave of digital transformation through the combination of business processes and the modernization of service management. Although many people interpret this movement as a scenario that will harm the performance of the IT professional, what happens is usually the opposite. The facilitation of codes has re-signified the profession and directed professionals to a point where they are strategic in the company.
In fact, IT professionals end up being the biggest beneficiaries as they streamline their demands, gaining time and efficiency in the production cycle of the most varied systems, dashboards, automating processes, prototyping solutions, etc. Also, there is a reduced dependence on these professionals, which means that other sectors can participate in the creation process according to specific needs, bringing even more people closer to the IT universe.
Cost and time reduction, increased productivity, simplification, and modernization of processes. Low-Code is the ideal alternative if you want any of these points in your company.
What are the real advantages of Low Code?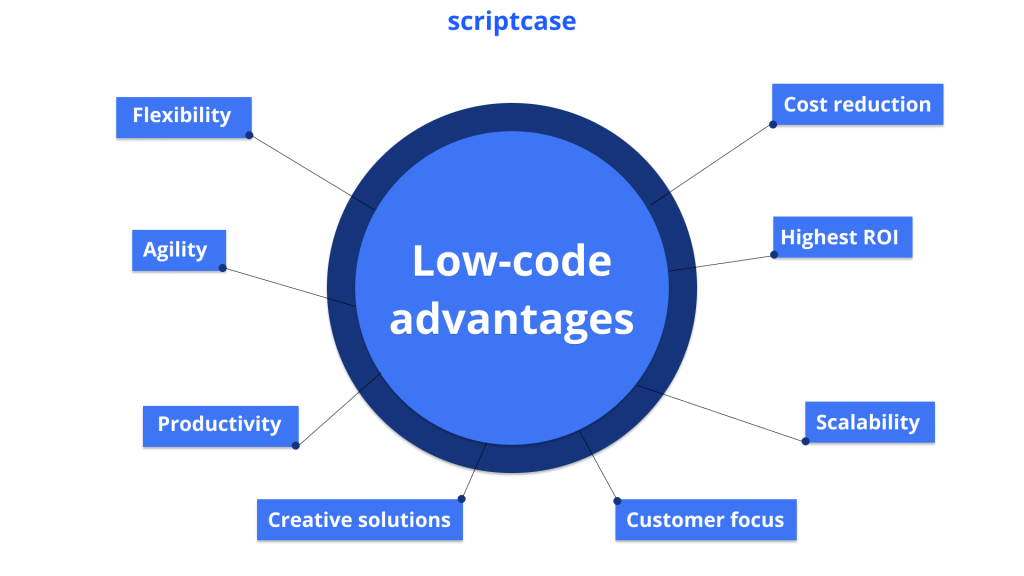 Speed
Without a doubt, the most crucial feature of Low-Code is the ability to streamline the entire process of developing and delivering applications and software. We can estimate that the agility gain is up to 10x greater than traditional development.
This all happens thanks to its visual interface, developed and designed to facilitate the creation flow, simplifying the construction of solutions and integration with other tools necessary to achieve the expected results.
Multiple Features
A Low-Code platform offers a range of ready-made resources to facilitate the development of systems and applications. Therefore, it is possible to quickly finalize the projects with minimal investments or long execution times to deliver the final results.
Low risk / high ROI
A Low-Code solution has a meager cost compared to the conventional investment required to build systems. Investing in a template is substantially cheaper and more advantageous than creating something entirely from scratch. The Return on Investment (ROI) rate is very high as the results obtained tend to be very positive.
And added to that, the created solutions are very secure and stable, as they are designed to guarantee stability, privacy, and data security.
Implementation
Since Low-code works with ready-made models, the solution prototyping process is extremely fast and assertive, and it is possible already to have a project still in the planning stage. And that dramatically facilitates the entire development process, reducing the effort required for and rework on system tweaks.
Flexibility
Adopting a Low-Code means you will have total flexibility to develop solutions that meet your business's and your customers' specificity. Results can be quickly achieved by being easy to use and generally having a very high learning curve.
Learning curve
As already mentioned, Low-Code enables users to build IT solutions without necessarily having the technical knowledge to do so. This opens up a range of possibilities, creating an environment where innovation and the development of strategic solutions are within everyone's reach.
Why choose the best Low-Code tool for your needs?
Choosing to use a good Low Code tool is essential as it is the future of solution development. By adding such a solution to your company, an entire complex creation process is simplified, and the company no longer needs to worry about non-functional IT requirements since everything becomes the responsibility of the solution provider.
That's why it's so important to choose a suitable tool. With Scriptcase the entire process of creating web systems becomes efficient, modern, automated, and simplified. Scriptcase is a PHP application development platform. This tool allows a graphical interface to be accessed directly via a browser. Using Scriptcase RAD PHP, developers can generate complete PHP systems in an agile way.
>>> Schedule a guided demo and understand how Scriptcase will optimize your business systems development. <<<